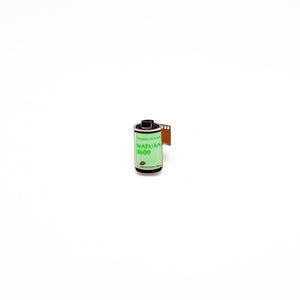 A great way to remember what films you have loaded in your camera, just pin it on your camera strap. 
A tribute to one of our favorite cult 35mm color negative films, Natura 1600. Rumor has it that Natura 1600 is the same film stock as Superia 1600 but was perfected for the Japanese market to feature more 'natural' color reproduction and clarity. This film was only available in the Japanese market and also paired with special cameras (eg. Natura Classica etc) that featured 'NP' (Natural Photo) mode.
Unfortunately, like many other films, this one too has been discontinued, so shoot it while you can and let it live on forever through this pin!
Highest quality cloisonné pin
Black rubber pin clutch
Size: 26 x 18mm
Buy 3 or more ThirdCulture 35mm Pins to get RM10.00 off!